Corporate Incentives
Events, Exhibitions and Conferences

Many international business visitors who travel around parts of Europe and other parts of the world to attend Conferences, return to their own countries enriched and motivated by how other people live and work.
The experience helps to improve life and work at home in many ways.

Knowledge is power and to be near people with different cultures, the corporate world has made enormous progress in quality of businesses.
Corporate Entertainments has entertained thousands of overseas visitors to London in the leisure business travel providing and acquiring new skills and experience.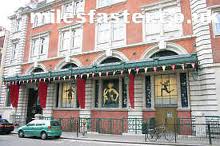 Their business has become more efficient and competitive by incorporating best business practices within their systems and operations.
The aim remains the same, to bring new ideas together, discussing, learning and networking with hundreds of other London entrepreneurs.
Choice for special London Events providing Incentives:
The Making of London
The Theatre Museum is Britain's only performing arts museum in a country renowned for its theatre. It serves as a museum, library, archive and education resource. Established in 1987 in its current building the old Covent Garden Flower Market, it is the National Museum of Performing Arts and is a branch of the V & A. Creative workshops, events and activities designed to encourage young people (3-14 year olds) and adults to learn more about the performing arts. Also, Drama workshop for 8-12 year olds based on West End shows. Play drama games and have-a-go at performing with theatre professionals.
All in all, an overview of the evolution of the West End over the past 150 years, the exhibition reflects the glitz, grime and ambition that shaped London Theatreland and the Royal Opera House next door.
Type of Event: Exhibition
E-mail: info@CorporateEntertainments.com
Webpage: www.CorporateEntertainments.com