Sporting Events
Royal Ascot Race Meetings
Ref. 0712E. Royal Ascot is the world's most famous race meeting, steeped in history that dates back to 1711. A magnificent sporting and social occasion, where tradition, pageantry and style all meet in a wonderful setting.
Register your interest in this Event »
Henley Royal Regatta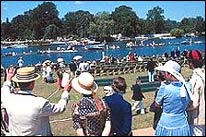 Ref. 0713E. Henley Regatta was first held in 1839 and has been held annually ever since.
Originally it took place on a single afternoon but proved so popular with oarsmen that the racing lasted for two days.
Register your interest for this Event»
Wimbledon Tennis Club Championship
Ref. 0714E.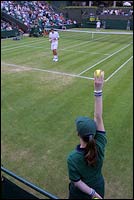 The very first Lawn Tennis Championships at The All England Croquet and Lawn Tennis Club was an amateur event in 1877. Just 22 men entered the Gentlemen's Singles which was eventually won by Spencer Gore. The Ladies' Singles competition began in 1884, with Miss Maud Watson triumphant out of the 13 entrants. The All England Lawn Tennis Club The All England Lawn Tennis & Croquet Club, responsible for staging the world's leading tennis tournament.
Register your interest in this Event »
Twickenham Rugby Club Tour
Ref. 0715E.

The Twickenham Rugby Football Club can trace its origins all the way back to 1867. The easiest way to get out to the field is by car. Take note: expect long walks. Taxis rarely service the area. Once you get to the match, expect a lively battle as well!
Register your interest in this Event »
Guards Polo Club
Ref. 0716E.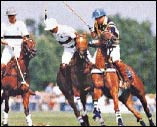 The Guards Polo Club was founded in 1955 with HRH The Prince Philip, Duke of Edinburgh, as President. Originally called the Household Brigade Polo Club, the name was changed to its present form in 1969. Set in outstanding natural surroundings, since its foundation, the club has grown a lot by becoming more accessible and it is now the largest polo club in Britain.