The World of Navigation
and River Thames Cruises
Greenwich Observatory and River Cruise: Meet at your hotel, for an adventure through London to reach the pier for a pleasant cruise on the river Thames. London seems to flow as the water makes its way to the sea. The right and left bending of the river Thames, caused a change in the landscape and the use of the land by various civilisations. Centuries of history and spectacular views of London are seen from the boat cruisers taking us to Greenwich.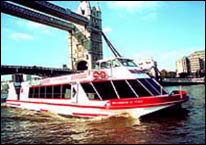 Relax and enjoy the stunning views as London's famous sights glide by Westminster Abbey, Houses of Parliament, Whitehall, Embankment, Waterloo, London Eye, South Bank, Tower of London, the famous 'Square Mile. Docklands and the Mayflower, The Prospect of Witby and the Town of Ramsgate flow by. The Heritage Centre of Greenwich, home of the famous tea clipper Cutty Sark, Sir Francis Chichester's record-breaking yacht Gypsy Moth IV, the National Maritime Museum, (visit included) The Queen's House, (visit included ) The Old Royal Observatory (visit included).
Half day tour.
Greenwich as long as you like? (hop-on hop-off)
Book Cruises »Price: £ 39.00 per person Reference: 0125E